Financial highlights
In financial terms, Pearson's goal is to achieve sustainable growth on three key financial goals - earnings, cash and return on invested capital, and reliable cash returns to our investors through healthy and growing dividends. Over the past five years we have produced, on average, 15% growth in earnings and 11% in cash flow. And we have sustained our growth even in the face of very tough economic and market conditions in recent years.
---
2011 £m
2010 £m
Headline growth
CER growth
Underlying growth
Business performance
Sales
5,862
5,663
4%
6%
1%
Adjusted operating profit
942
857
10%
12%
7%
Adjusted profit before tax
890
853
4%
Adjusted earnings per share
86.5p
77.5p
12%
Operating cash flow
983
1,057
(7)%
Total free cash flow
772
904
(15)%
Total free cash flow per share
96.5p
112.8p
(14)%
Return on invested capital
9.1%
10.3%
(1.2)%

pts

Net debt
(499)

(430)

(16)%
Statutory results
Operating profit
1,226
743
65%
Profit before tax
1,155
670
72%
Basic earnings per share
119.6p
161.9p
(26)%
Cash generated from operations
1,093
1,169
(7)%
Dividend per share
42.0p
38.7p
9%
Notes Throughout this document:
a) Growth rates are stated on a constant exchange rate (CER) basis unless otherwise stated. Where quoted, underlying growth rates exclude both currency movements and portfolio changes.
b) Interactive Data was treated as a discontinued business in 2010 and sales and operating profit are stated on a continuing business basis, excluding Interactive Data from 2010. Until its sale on 29 July 2010, Interactive Data contributed 2010 revenues of £296m and 2010 adjusted operating profit of £81m.
c) The 'business performance' measures are non‑GAAP measures and reconciliations to the equivalent statutory heading under IFRS are included in notes 2, 8 and 33 to the annual report.
2011 Sales £5.9bn +6%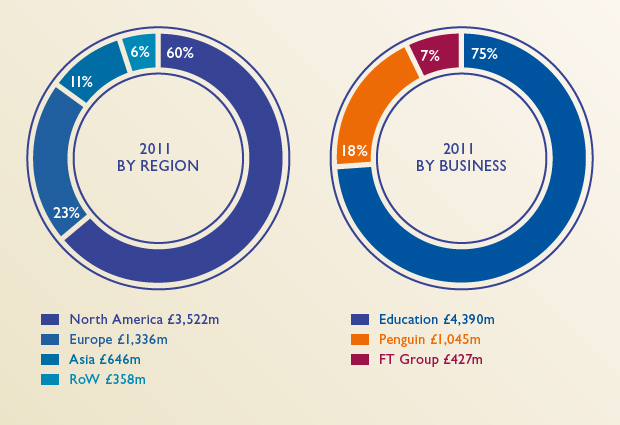 2011 Adjusted operating profit £942m +12%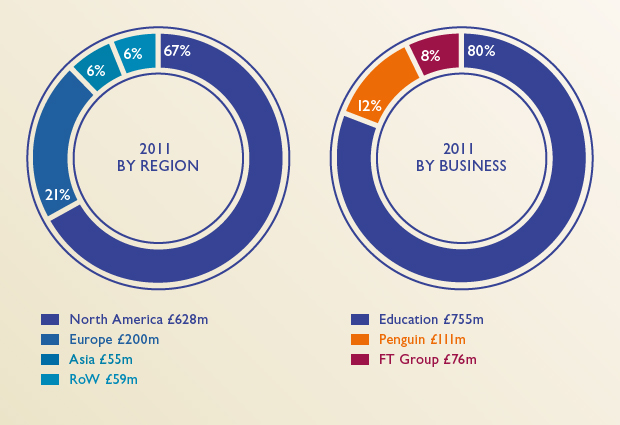 Our five-year record
Average annual growth in headline terms, 2006-2011
Adjusted earnings per share +15%
Sales £m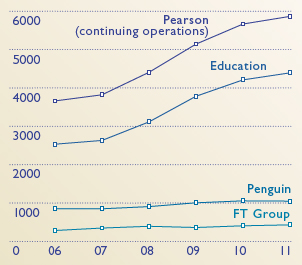 Operating cash flow +11%
Adjusted operating profit £m